Tutzil Nah Cottages is a small family business. The three brothers, Gregorio, Ouscal and Julian have a lot of experience in the guiding service. We have been in the guiding service since in the early 1990's.
On the site we operate a small restaurant. We serve breakfast, lunch and dinner the traditional Mayan and local Belizean dishes.
On occasion you may be the only guest. But no matter, whether you're alone or in a group, the Chun family will give you friendly and personalized service.
We can accommodate up to 13 people at any one time.
The cottages are located right beside the Chun family homes following Maya tradition, several generations live in close proximity.
The Chun family grew up in the traditional Mayan way, living in the jungle of what is now the Cockscomb Basin Wildlife Sanctuary (Jaguar Reserve) and was one of the families that assisted Dr. Alan Rabinowitz of New York Zoological society in his study of the Jaguar and which led to the creation of this wildlife sanctuary.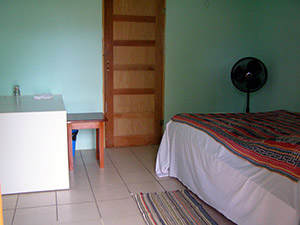 Each of the Cottage has two separated rooms with a choice of double or single room with outside shared baths. Double with inside baths, a house that can hold six people with inside baths.
Room are fully screened and have standings fans, chairs and small tables and 24 hours electricity and outlet plug. For communications, we have Wi-Fi on site.
Nightly Room Rates US$
Shared Baths
Single
$14.00
Double
$18.00
Private Baths
Double
$22.00
House
$55.00 per night
*Plus 9% Hotel Tax

It will be a pleasure to have you at Tutzil Nah Cottages and in our village.
Please let us know if we can help you make arrangements for your stay at Tutzil Nah Cottages.